A week of commercial, institutional and educational exchange.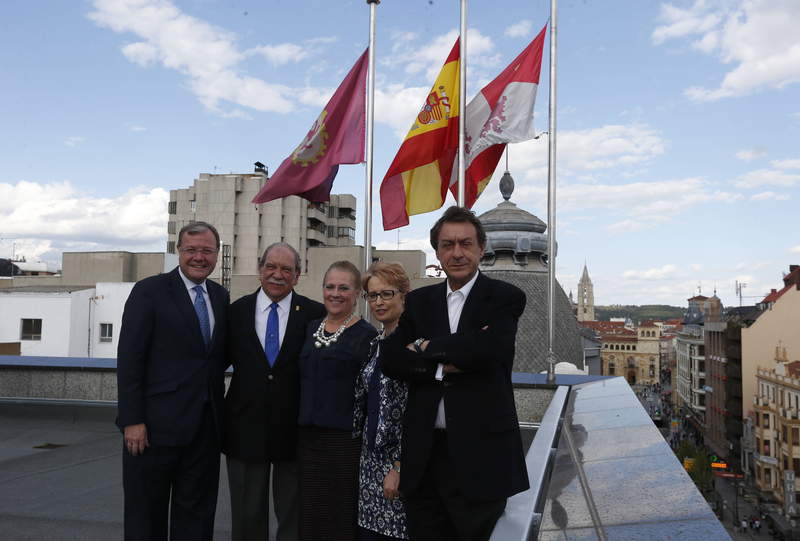 MARÍA J. MUÑIZ | LEÓN
Establishing the appropriate channels for a regular exchange at a commercial, institutional and educational level is the triple aim of the delegation that will be travelling from the province to the Mexican capital from today until next Saturday with a tight agenda of activities. On the occasion of the 75th anniversary of the creation of Agrupación Leonesa (Leonese Association) in Mexico, its president, Pedro José Díez, invited the mayor of León, Antonio Silván, to strengthen ties between the economy, the life of the province and that of Mexico's Leonese colony in that country. The result was the creation of a delegation that today leaves for Mexico City and whose goal is to lay the foundations for a periodic exchange of contacts designed to strengthen the knowledge and investments of Leonese entrepreneurs in Mexico as well as the Leonese and Mexicans resident in the province.
The Leonese Association in Mexico will be the 'base of operations' for the agenda of contacts and business exchanges, which will be scheduled according to the needs and bilateral contacts established by the participating companies in this first edition of the meeting. Indeed, the key to the success of the initiative is to organise regular meetings to foster better mutual understanding of both markets and to establish commercial relationships that may gradually increase.
In the institutional sphere, the municipal representation led by councillors Agustín Rajoy, Javier García Prieto and Justo Fernández will not only have contacts in Mexico City, but will also expand its agenda with a visit to the city of Puebla, twinned with León.
Education Counsellor
The Education Counsellor Fernando Rey is also part of this delegation, which will hold talks in schools and training centres and at which the director of Andbank in León, María Jesús Soto, will deliver copies of her books on economic and financial education. Soto will give several talks to students as well as lectures on the need for education of this nature.
The Leonese delegation will feature a group of entrepreneurs from sectors ranging from the glass and textile industries to architecture, hotels, wines, investment, private banking or tourism. Throughout the week they will hold several meetings with Mexican entrepreneurs to set up business and investment channels between the two countries.
The trip also has a component aimed at Mexican investors, via the company W&P Independent Advisors. One of the main activities will be a lecture from the chief economist of Andbank, Álex Fusté.
There will also be a tribute to Valentín Díez Morodo who, among many positions held on boards of directors of leading international companies, is a member of the Global Board of AB InBev, the world's top beer group.
Published in the Diario de León