The creation of books in paper and digital format in several languages.

2. EFB Educational Platform
We support teaching work in a cross-disciplinary manner through the development of activities, resources (videos, dictionary, news…) and games offered via the educational platform www.educacionfinancierabasica.com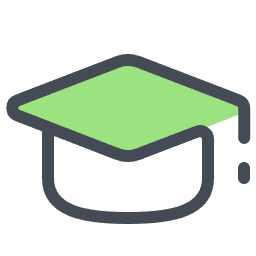 Training and awareness-raising through lectures, courses and workshops aimed at different groups, preferably children and young people, on issues related to the economy, finance, entrepreneurship and the values that we believe should accompany the economic and business actions of the different economic agents: families, companies and governments.
The ten publications that make up the Spanish catalogue of the Mª Jesús Soto Foundation at the beginning of 2023 will be joined by another in the second part of the year dedicated to the detailed explanation of what an investment fund is and what it is for, as well as the different types of funds that exist.
This book is intended as a basic guide for investors. It informs them about what they should take into account when investing in funds, what factors can affect their profitability and risk, and how it is possible to invest while securing the sustainability of the planet. It explains the detailed and professional work of managers and advisors within a shifting economic-financial environment in which the challenges of climate change, new technologies and artificial intelligence are creating opportunities and advantages that, albeit currently in the regulation phase in order to prevent unwanted consequences, will profoundly affect economic-financial and other sectors in the coming years.
This new book from the BASIC FINANCIAL EDUCATION collection will complement the previous four already released: the first three dedicated to a different economic agent – consumers, companies and governments – and the fourth covering sustainable finance in the framework of the European Union and the 2030 Agenda.
We will also continue our work to promote publications aimed at children: the PRACTICAL ECONOMY FOR CHILDREN and FABLES TO MAKE YOU THINK WITH NICO AND CAROL collections, with which we aim to promote critical thinking from an early age and create healthy economic habits.
We also have planned actions designed to: promote the content of our main books in different languages (English, French, German, Italian and Portuguese), once they have been transformed into epub format to be downloaded from different platforms; and increase some of the resources offered from our EFB educational platform in other languages.
2. EFB Educational Platform
As has occurred every year since we started this educational project to disseminate economic education – which we believe is a necessary life skill that contributes to the all-round training of individuals – we have sought to develop materials that help teachers provide it in a cross-disciplinary way, from any subject.
Educational centres and their teachers face new challenges in the form of different ways of teaching. The attention to diversity, the interdisciplinary approach and the need for multitasking have altered their way of working. This new work methodology, coupled with the challenge of teaching new content – in our case content of an economic-financial nature that is particularly difficult to put into practice – demands materials and training, which our Foundation can provide with the help of this platform.
For these reasons, the BASIC FINANCIAL EDUCATION (EFB) platform was set up in 2017 and enhanced with new activities, resources and games on an annual basis, as we plan to continue doing in 2023, focusing above all on the content of our publication MY FIRST ELECTIONS: PUBLIC SECTOR AND GOVERNMENT SYSTEMS since this year is an election year in many places, both in Spain and abroad.
When it was first created, the platform was tested by many teachers in our community, Castilla-León, thanks to the collaboration agreement signed with the regional Ministry of Education. This year, it will continue adding teachers from the Community of Madrid thanks to the signing of a second agreement with the regional government. As a result, several of the actions planned for 2023-2024 are directed at public, private and subsidised centres in these two communities with a view to complying with the agreements entered into to promote economic-financial knowledge and entrepreneurship among teachers and students from Madrid and Castilla-León.
With the forthcoming entry into force of a new educational law, we will continue to develop materials that seek to inspire entrepreneurship. We firmly believe that education is key to creating active and self-confident individuals, entrepreneurs, innovators, capable of reinventing themselves and who have values that contribute to improving the society in which we live. Cognitive skills, while essential, are not enough in themselves. It is also important to acquire skills such as critical thinking, diversity management, teamwork and others that we incorporate into the material we prepare because we firmly believe in them. These include resilience, enthusiasm, perseverance, acceptance of change or the management of emotions, to which we would be so bold as to add economic emotions.
Complementing the publications and resources offered at EFB is the third of the Foundation's actions: training work, which is carried out in two ways:
By means of our educational contests.
By means of lectures, courses and workshops given to different groups with varying interests and needs.
Educational contests related to economics-finance, entrepreneurship and other disciplines scheduled for 2023-2024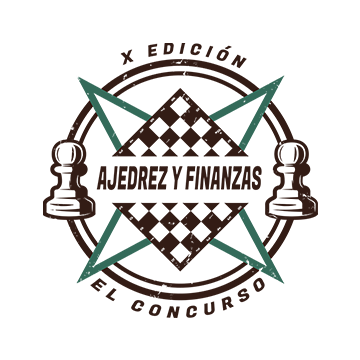 Chess and finance contest
From JANUARY to APRIL 2023
The aim is to help students develop the skill to make decisions based on rational analysis and an objective evaluation of different situations, using chess playing as a tool, as well as understanding how the economy works, extremely useful knowledge in a world as complex and globalised as the one we inhabit today.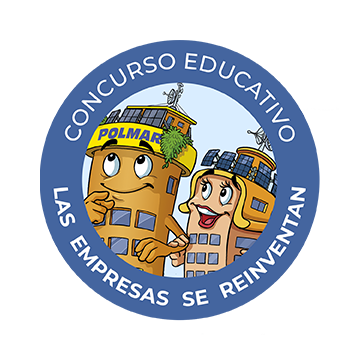 "Companies reinvent themselves" contest
Contest open to listed companies in Spain that seeks to improve students' knowledge in various areas: the Spanish business world, to find out how companies apply sustainability and how they reinvent themselves with a view to improving their results and, at the same time, the planet; sustainable finance, its origin and its regulatory framework; the stock market and financial world that analyses new aspects (ESG) when serving as a means of financing companies; and also to consolidate each participating team's knowledge of the subject. It includes several training videos prepared by the Spanish bourse (BME) that need to be viewed during the contest.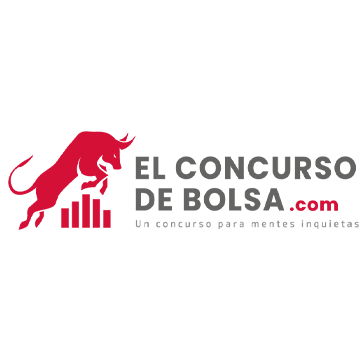 From OCTOBER to NOVEMBER 2023
The aim of the contest is to familiarise participants with capital markets and how they operate. The contestants will have to manage an investment portfolio with securities listed on the Spanish Continuous Market in a way that is almost real, following the rules of the game included in the guidelines. Three variables are taken into account when it comes to evaluating the participants: profitability, volatility and improvement of financial knowledge. It includes several training videos prepared by the Spanish bourse (BME) that need to be viewed during the contest.
2. 2023 is a year with several planned courses and workshops:
EDUCATIONAL MENTORING COURSE
Course given during the 2022-2023 school year to the winning
teachers
of the "Let's take care of our planet" contest held in the Community of Castilla-León in 2022. It will also be one of the prizes for the winners of the 2023 "Companies reinvent themselves" contest and will be held during the 2023-2024 school year.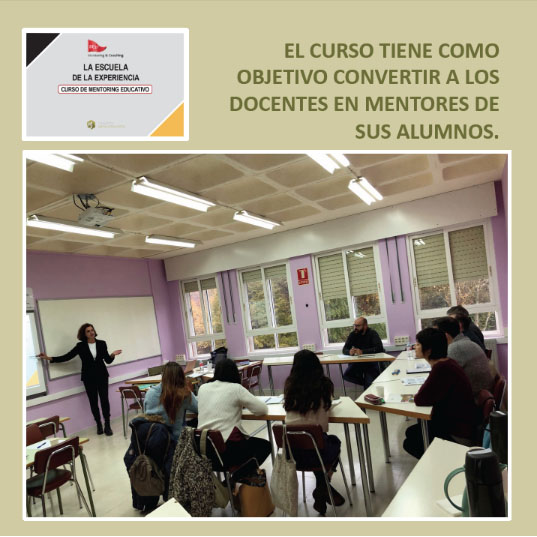 LECTURES ON THE OPERATION OF THE STOCK MARKET
Lectures to be held both face-to-face and online. They will be given at any time of the year free of charge and upon request before the stock market contest is held in the educational centres that wish to compete. In the 2022 call, a total of 23 training talks were given before more than 500 students. The level of participation and number of talks is expected to be similar in the 2023 edition.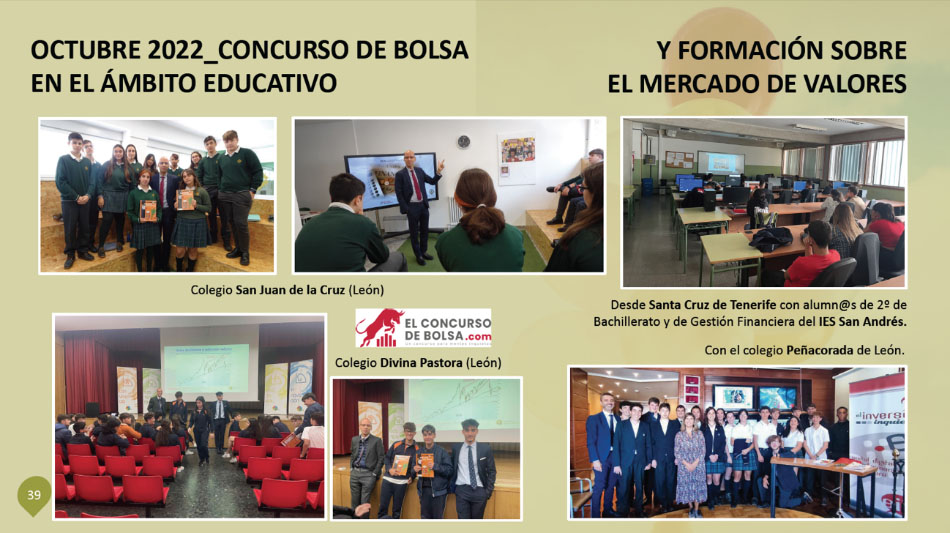 PRACTICAL WORKSHOPS. "HOW TO PREPARE MY FIRST BUDGET"
The workshops are scheduled to take place in autumn 2023 in schools in
Avila and Segovia
 for primary school students aged 10 to 12. It will also be one of the prizes for the winning centres of the "Companies reinvent themselves" contest.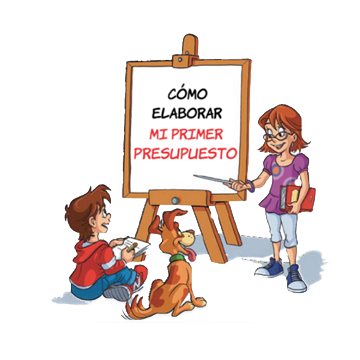 PRACTICAL WORKSHOPS "THE WORLD OF BUSINESS AND ENTREPRENEURS".
Planned to take place in secondary schools in Palencia and Soria in autumn 2023 for students aged 14 to 16. It will also be one of the prizes for the winning centres of the "Companies reinvent themselves" contest.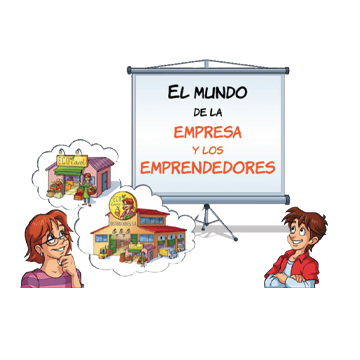 LECTURES TO DIFFERENT COLLECTIVES
As usual, lectures will be given throughout the year to various groups and for different purposes, depending on the subject to be discussed and the target audience.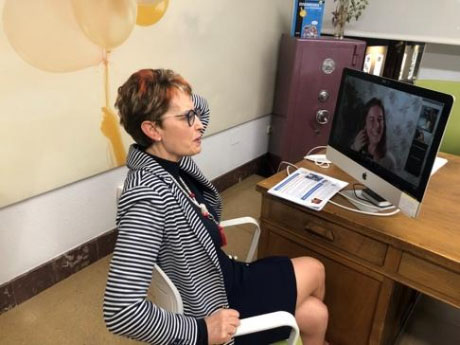 The beneficiaries of our project during the 2023-2024 academic year will preferably be the educational centres of the Autonomous Communities of Castilla-León and Madrid, as well as the participants of our educational contests, individuals and students who wish to improve their knowledge with the training they can receive through the contests run by the Mª Jesús Soto Foundation and through the materials it publishes physically and digitally.

Contribute, using economic and entrepreneurial education, to training for life.
Prevent economic illiteracy.
Trainteachers and help them to use these contents in a cross-disciplinary way, irrespective of the subject they teach.
Prepare and providedidactic materials, with examples and practices appropriate to each educational level.
Rememberthe importance of developing emotional intelligence and values, so vital in the field of economics, finance, business and the public sector.
Stimulateinterest in economic-financial and entrepreneurial education.